Mediq opens a new business services office in Vilnius, Lithuania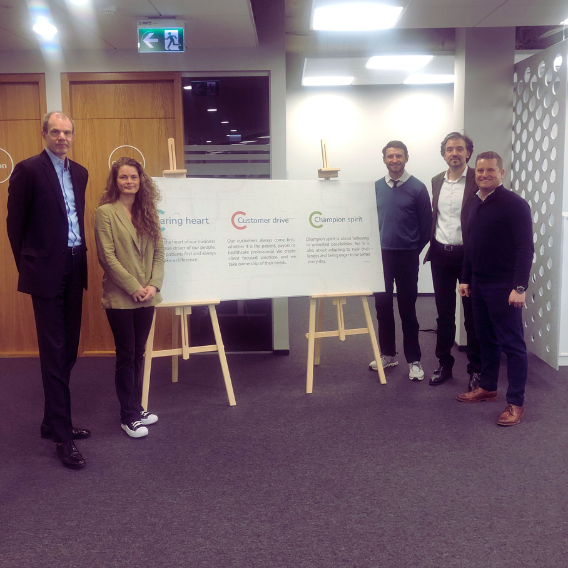 This move aligns with Mediq's mission to deliver the most efficient outcomes to European healthcare by providing products, services, and solutions. The business services team of Mediq will focus on building optimized processes and leveraging the strong talent pool in Lithuania to make its operations even more efficient and serve its customers in an exceptional way. The newly established workforce will help Mediq accelerate its transformation journey by setting up teams that support key functions, including Supply Chain, Finance, Operations and Master Data Management. The decision to establish Mediq's business services in Lithuania was based on the region's reputation for having a highly skilled and multilingual talent pool, a favorable business environment, and easy access to Mediq's operating markets.
Lithuania's investment promotion agency Invest Lithuania supported Mediq throughout the process of its establishment in the country and is looking forward to the company's continued growth. "Mediq has found a great match for further development – Lithuania. This speaks to Lithuania's favorable business environment and skilled, multilingual talent that provides the perfect platform for companies like Mediq to grow. I am confident that Mediq and Lithuania will support one another in achieving even greater success and innovative solutions," – says Elijus Čivilis, General Manager at Invest Lithuania.


The opening of the new office was hosted by Yvan Laurent, Managing Director of Mediq Business Services, and attended by the Mediq's Executive Committee members. "We are excited to open our new office in Lithuania. I am beyond impressed with the level of the skills of the international workforce in Lithuania and their keen aspiration to collaborate with colleagues across our European entities. This team will drive more efficient processes for Mediq and providing better services to our customers," – said Yvan Laurent.


Mediq's CEO, Thomas Hinnerskov, attending the event, expressed delight with the decision from its Northern leadership team to kick-start Mediq's business services in Lithuania. "Mediq's investment in Lithuania is a testament to the country's robust economic settings and talented employee base. We are confident that our presence in Lithuania will help us further our mission of delivering the most efficient and effective healthcare outcomes to our customers patients and partners."