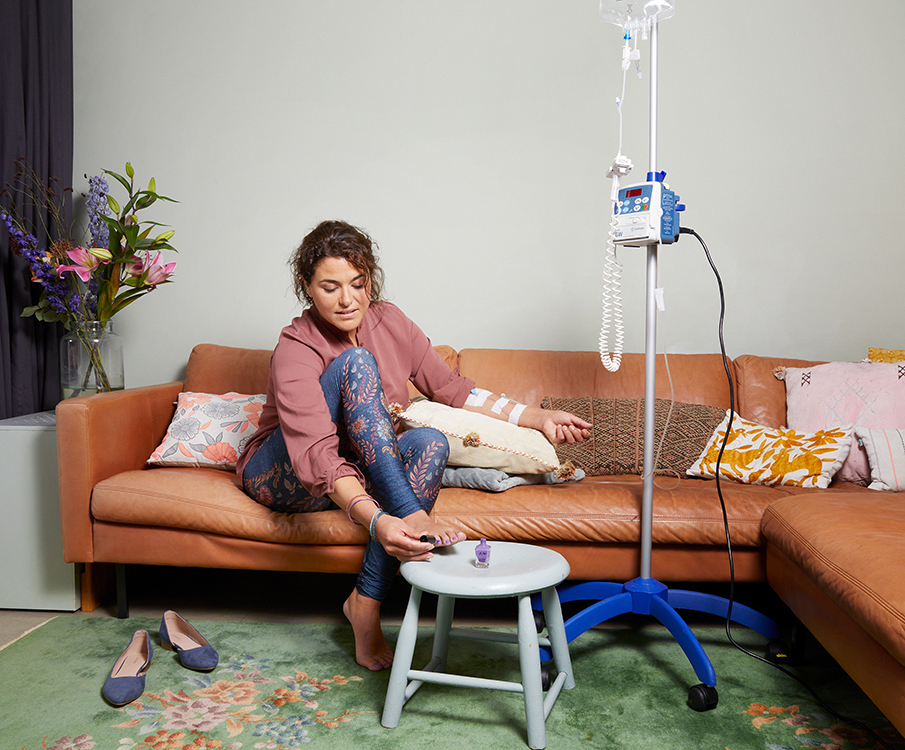 Immunoglobulin (IgG) is used to reduce the effects of inflammatory conditions that involve the immune system, also known as autoimmune diseases. Peter is one of the people for whom this is a lifelong treatment. For over 20 years, he visited the hospital every three or four weeks for his intravenous immunoglobulin treatment. 'It was quite a long way to travel, and the treatment takes several hours.' For Peter and patients in similar circumstances, Mediq developed three options for medical support as well as delivery of IgG supplies and equipment at home.
Multiple options
Home-based IgC treatment is highly valued because of its personalized and effective character, meeting the needs and preferences of patients. Mediq can provide a full service. With this, the care professional is responsible for the preparation. He or she connects and disconnects the patient to the syringe and stays with the patient throughout the treatment. Another option is that the professional arranges preparation, connecting and disconnecting the patient to the syringe, and leaves while the treatment takes place. The third option is that the syringe is removed by the patient as well.
It's all about freedom
Besides no travel time and waiting around at the hospital, benefits of in-home therapy include energy saving and greater comfort and independence. At home, people don't feel like a patient. The nurse can relieve their anxiety about having a treatment outside the hospital environment by providing information and being accessible. She can also assure patients that other people also have treatments at home, at a holiday address or at work. Ultimately, the aim is to encourage but not force the patient's self-reliance. They can always return to the full nursing service if they wish.
Better quality of life
Safely performed home-treatments have significantly improved Peter's life. The quality of his care has stayed equally high, with is medical specialist continuing to oversee the treatment. In broader terms, this therapy alternative also helps reducing recurring costs, which helps keep the costs of medical care affordable in the long term.